A
Broader
Perspective,
A
Bigger
Heart
At Hope House, we believe in celebrating. From birthdays to holidays to any day, we love taking the time to appreciate the good things that come our way.
It just so happens that this week is National Volunteer week and that one of those unbelievably good, celebration-worthy things at Hope House is a kind, consistent volunteer named Marilyn Conner.
Everyone at Hope House knows Ms. Marilyn. She has been a familiar face at Hope House for over 15 years now. She explains that she first learned about Hope House through a company at which she worked. "I got involved with a Hope House through a program where we came and read to the children, and then we would donate books. That started in the early 2000s. Next, we brought gifts for the families and volunteered at Christmas too, then helped with graduation. That was how I first got involved."
However, Marilyn did not stop at corporate involvement at Hope House. She made a decision to become personally invested, wishing to be helpful in any way she could. She explains: " Pretty soon I met Maria, the Director of Social Services, and she informed me of ways I could become more involved. Hope House was starting a GED program, so I started tutoring and teaching in that program. Anytime I could, I would be there. I met the clients in the program and really got to know them.
"Through that process, I began mentoring one of my students. That has turned into a lifetime relationship. I still see her, and she and her children have done very well. It's been a successful thing for both of us, because she is very important to me. Her wisdom to know how to survive and flourish in challenging situations was amazing. She is an excellent role model for her children, nieces, nephews and entire family.
"Now that I am retired, I just keep coming back and asking what I can do. I live close by, so I can be here often. Sometimes I help the social workers with data input, filing or organization. I also work with Sandy, the Operations Manager to help with reports or audit preparation. And I go take care of the babies – that's another fun thing to do. I just show up and see how I can help!"
"The

relationships

I

have

formed

through

volunteering

–

with

the

employees,

clients

and

other

volunteers

–

have

given

me

a

broader

perspective,

a

bigger

heart

and

a

way

to

give

back."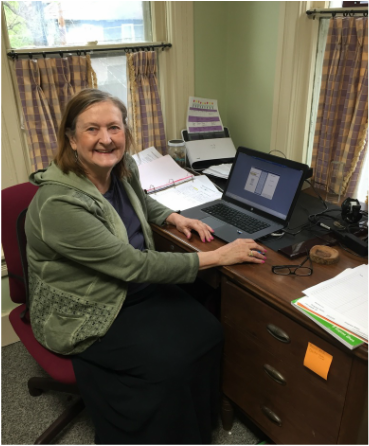 When asked what she would tell other prospective volunteers, Marilyn responded enthusiastically. "I volunteer at several places and I benefit more from working and being here than from any other organization. The relationships I have formed through volunteering – with the employees, clients and other volunteers – have given me a broader perspective, a bigger heart and a way to give back. There's just really not that many places like Hope House!"
We are so grateful for all of our dedicated volunteers who generously give of their time and resources. Without YOU - community volunteers, students, our board members and our community volunteer partners - Hope House would not be able to offer services and care to over 150 clients in the MidSouth area. So thank you, from the bottom of our hearts. This week, we celebrate you!