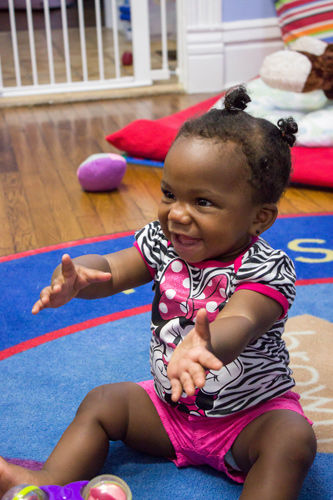 Hope House's child care center opened its doors in 1995 serving 5 children, 3 days a week. We now offer child care services to 13 children, 5 days a week.
The child care center is NAEYC (National Association for the Education of Young Children) accredited and our teachers all have an associate degree or higher in early childhood education or an education-related field.
We have two classrooms:
Our infant room consists of 4 infants with one teacher. This rooms serves children 6 weeks to 1 year.
Our toddler room consists of 9 children and 2 teachers. This room serves children 1-3 years of age.
Hours of Operation
The child care center is open Monday through Friday from 7:30 a.m. until 3:30 p.m. Children must be dropped off by 9:00 a.m.

Referrals/Admission
Our child care center is currently full and we will accept referrals for our wait list. In order to be eligible the child must be diagnosed with HIV/AIDS or have a direct caregiver who is diagnosed with HIV/AIDS. For more information about our day care or referring a child to the day care please contact Melissa Farrar at (901) 272-2702 ext. 207.