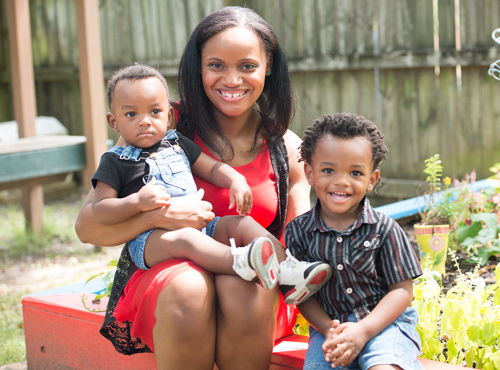 Hope House opened a third house in 2005 to expand our social services program. We currently offer the following services to any adults living with HIV and affected by poverty in Shelby County:
Play Therapy – Weekly play therapy sessions are provided by trained social workers for children impacted by HIV who have difficulty in self-regulation, exhibit aggression, or have been traumatized.

Violence Prevention Parent Training Program – A strength-based prevention/intervention parent-training program. The program addresses violence against self (drugs/alcohol), and violence against others (child abuse, domestic violence, crime, gangs) through five curriculum component areas: Cultural/Spiritual, Enhancing Relationships, Positive Discipline, Rites of Passage and Community Involvement.
Individual Counseling – Available to clients to search for ways to manage difficult situations or problems. Support and resources are offered to clients as they live and cope with the discomfort of dealing with challenges in their lives.
Support Groups – Clients meet weekly to provide support, encouragement, and hope to each other.
Tenant Based Rental Assistance Program (TBRA) – TBRA is a rental subsidy that helps client households afford housing costs such as rent, utilities, security deposits, and/or utility deposits.
Mentoring – Clients develop supportive relationship with individuals in the community to gain and encourage personal growth and skills.
Emergency Financial Assistance – This program assists clients who are in crisis with rent, utilities, food, phone, clothing or other basic needs.
Case Management – The case management services made available to clients are: home visits, hospital visits, adherence counseling, and health literacy, referral to community resources, advocacy, and linkage to medical care.
Getting Ahead in a Just-Gettin' By World – The program offers clients who struggle to make ends meet and live in poverty the opportunity to work together to assess their lives, their environment and their available resources.
Dave Ramsey Financial Peace University – The class helps clients become debt free, get control of their money and learn new behaviors around money management.
Boundaries – The course emphasizes healthy boundaries in order to promote healthy relationships.
Hours of Operation
Our social services are available for individual appointment only. For more information about how to find an open support group or access to other services please contact Yolanda at (901) 272-2702 ext. 201.
Referrals/Admission
Clients must be 18 years of age or over to receive our adult social services and have a Ryan White card to be eligible for services. Referrals should be made through a medical case manager. For more information on referring someone or yourself for services please contact Yolanda at (901) 272-2702 ext. 201.